Tuesday, 20th of May of 2014
Analysing palaeontological data helps characterize irregular paleoenvironmental cycles, lasting between less than 1 day and more than millions of years Francisco J. Rodríguez-Tovar, Professor of Stratigraphy and Paleontology at the University of Granada, is the first Spanish scientist to have an article published in the Annual Reviews of Earth and Planetary Sciences
Research conducted at the University of Granada has shown that the cyclical phenomena that affect the environment, like climate change, in the atmosphere-ocean dynamic and, even, disturbances to planetary orbits, have existed since hundreds of millions of year ago and can be studied by analysing fossils.
This is borne out by the palaeontological data analysed, which have facilitated the characterization of irregular cyclical paleoenvironmental changes, lasting between less than 1 day and up to millions of years.
Francisco J. Rodríguez-Tovar, Professor de Stratigraphy and Paleontology at the University of Granada, has analysed how fossil records can be used as a key tool to characterize these cyclical phenomena that have varying time scales.
The results of this research have been published in the prestigious journal Annual Reviews of Earth and Planetary Sciences, the second-ranked journal in the category of Geosciences, Multidisciplinary in the Journal Citation Reports ranking, after Nature Geosciences, with an impact factor close to 9. Never before has a Spanish scientist succeeded in having an article published in this journal.
As Dr Rodríguez-Tovar indicates, these are cyclical phenomena of a variable scale, from less than a day to more than millions of years, and which have appeared in different ways in the fossil record.
In the case of those lasting between less than 1 day and 1 year, "these are phenomena on an ecological scale essentially associated with variations in tidal and solar cycles that were recorded in the models of growth of organisms like bivalve shells or corals. Hence, we find evidence of them in fossils dating from the Paleozoic (more than 500 million years ago)", says Prof. Rodríguez-Tovar of the University of Granada.
Moreover, in his article he has studied cyclical phenomena that have lasted between 1 year and 10 000 years, like those associated with the El Niño phenomenon (a cyclical climactic phenomenon causing the warming of South American seas), the so-called Dansgaard-Oeschger Cycles or the Heinrich Events. The latter took place during the last Ice Age, and determined variations in the abundance, distribution and diversity of populations and marine and terrestrial species.
Also, he has analysed cyclical phenomena of between 10 000 and 1 million years ago, essentially associated with climactic changes due to orbital variations (Milankovitch cycles), that are recorded in the evolutionary patterns of specific species, even bringing about their extinction.
Finally, Professor Rodríguez-Tovar has studied cyclical changes lasting over 1 million years, occurring throughout the Phanerozoic period, which are interpretation as being associated with extraterrestrial phenomena (meteorite impacts, such as those occurring in the late Cretaceous/early Tertiary, some 65 million years ago) or terrestrial phenomena (such as large-scale volcanism).
"These changes are related with major periodic extinctions, which affect a high percentage of the biota, since in most cases more than 65% of living organisms became extinct", Prof. Rodríguez-Tovar points out.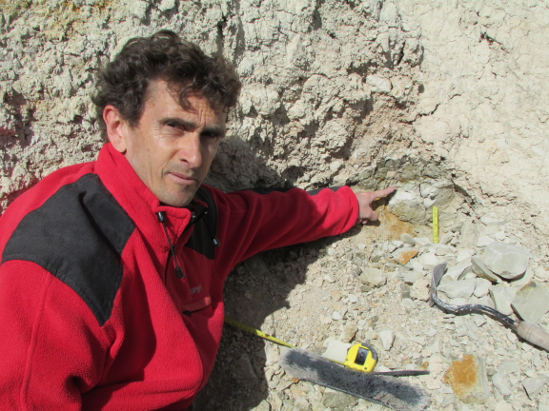 Professor Francisco J. Rodríguez-Tovar, of the University of Granada, pointing to the bio-event in the late Cretaceous/early Tertiary (when the dinosaurs became extinct) in Agost (Alicante).
Corresponding author:
Francisco J. Rodríguez-Tovar
Department of Stratigraphy and Paleontology University of Granada
Phone: +34 958 24 27 24
E-mail address: fjrtovar@ugr.es
Reference:
Orbital Climate Cycles in the Fossil Record: From Semidiurnal to Million-Year
Biotic Responses
Francisco J. Rodríguez-Tovar
Annu. Rev. Earth Planet. Sci. 2014. 42:69–102